When it comes to romantic comedies, "How to Lose a Guy in 10 Days" is undoubtedly a classic that has left audiences laughing, swooning, and rooting for the charismatic duo played by Kate Hudson and Matthew McConaughey. The movie's hilarious premise, witty banter, and heartwarming moments have made it a favorite among rom-com enthusiasts. If you're craving more films that capture the same blend of humor, romance, and a touch of miscommunication, you're in luck! Here's a list of movies that share the spirit of "How to Lose a Guy in 10 Days."
Movies Like How to Lose a Guy in 10 days
1. "The Ugly Truth" (2009)
Starring Katherine Heigl and Gerard Butler, "The Ugly Truth" follows a romantically challenged morning show producer and a chauvinistic TV personality who team up to help each other find love. Much like "How to Lose a Guy in 10 Days," this film is filled with comedic situations, misunderstandings, and unexpected chemistry that keep viewers engaged and entertained.
2. "27 Dresses" (2008)
For a dose of wedding-related chaos and romantic entanglements, "27 Dresses" is the perfect choice. Katherine Heigl stars as Jane, a woman who's been a bridesmaid 27 times but never the bride. When her sister starts dating the man Jane secretly loves, hilarious complications arise, leading to a journey of self-discovery and unexpected romance.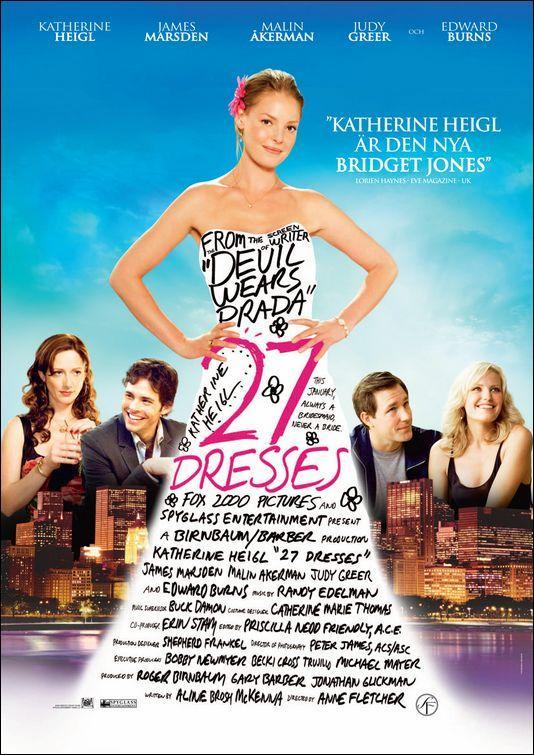 3. "What's Your Number?" (2011)
Anna Faris and Chris Evans shine in this quirky rom-com about a woman who revisits her past relationships to find her true love. Fearing she's already missed out on her soulmate, she enlists the help of her charming neighbor to track down her exes. The film's blend of humor, self-reflection, and a dash of romance makes it a great pick for fans of "How to Lose a Guy in 10 Days."
Similar Movies Like How to Lose a Guy in 10 days
4. "The Proposal" (2009)
If you loved the dynamic between Kate Hudson and Matthew McConaughey, you'll likely enjoy Sandra Bullock and Ryan Reynolds' chemistry in "The Proposal." When a Canadian executive faces deportation, she convinces her assistant to marry her to avoid the situation. Their journey to make their fake relationship seem real is filled with hilariously awkward moments and genuine emotional connections.
5. "Bridget Jones's Diary" (2001)
Renée Zellweger's iconic portrayal of Bridget Jones, a quirky and relatable woman navigating love and life, is a must-see for rom-com enthusiasts. This film beautifully blends comedy and romance as Bridget stumbles her way through a series of humorous mishaps while trying to find true love.
6. "How to Be Single" (2016)
For a modern take on love and relationships, "How to Be Single" offers a fresh perspective. Starring Dakota Johnson and Rebel Wilson, the film follows a group of friends as they navigate the ups and downs of single life in New York City. The movie explores themes of independence, self-discovery, and, of course, the complications of romance.
7. "Two Weeks Notice" (2002)
Hugh Grant and Sandra Bullock team up in this charming rom-com about a lawyer and her wealthy and slightly clueless boss. As she serves as his "right-hand woman," their relationship evolves from professional to personal in delightful and unexpected ways.
8. Crazy, Stupid, Love." (2011)
This film boasts an ensemble cast including Steve Carell, Ryan Gosling, and Emma Stone. It weaves multiple interconnected love stories with humor, heartache, and unexpected twists.
9. No Strings Attached" (2011)
Natalie Portman and Ashton Kutcher star as friends who decide to have a strictly physical relationship without any emotional attachments. However, as feelings develop, their arrangement becomes more complicated.
Read More : Top Movies like perks of being a wallflower
10. He's Just Not That Into You" (2009)
A star-studded cast including Jennifer Aniston, Drew Barrymore, and Scarlett Johansson brings to life a series of interconnected stories exploring the complexities of modern relationships.
In the world of romantic comedies, "How to Lose a Guy in 10 Days" stands as a memorable gem. These movies, with their entertaining mix of humor, romance, and relatable characters, are sure to satisfy your craving for more lighthearted love stories. So grab some popcorn, get cozy, and let these films sweep you off your feet, just like "How to Lose a Guy in 10 Days" did.